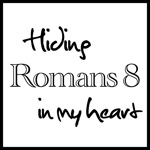 This year God has given me a thirst for his Word that I haven't had in a while. I have done Bible studies with
Good Morning Girls
and I'm currently doing 1 John. I also started the Abiding Fruit study on
Do Not Depart
. I can't get enough of God's Word. I have also memorized verses with Beth Moore
Siesta Scripture Memory
. However, I would to memorize a BIG chunk of God's Word (like a chapter of the Bible), but I would love to have accountability.
I recently discovered the Do Not Depart blog which has been such a great resource to ignite my passion for the Lord. Starting November 6 we will be memorizing Romans 8. Check out this
great schedule
! We will work on this until March 31. I can totally do that. I'm so excited to memorize Scripture, meditate on His Word and be with a group of equally passionate women who will keep me accountable.
Would you like to join too?
Blessings, Shonda