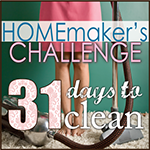 I wish I could say that I'm doing the Mary and Martha tasks everyday, but I'm not. In fact, some days I don't do anything. But now that my back is better I have energy, motivation and goals. My goals are to declutter. I really can't clean until I've got space. So I've done challenges every afternoon to declutter. I also found this website where bloggers are doing 31 days of posts on different topics. I chose a few that will help me in my quest. Slowly, but surely I know I will get to approximately where I want to be! :)
Here's the website with tons (about 650) of 31 Days to... posts:
The Nesting Place
Here are some I will be checking out:
*
31 Days to Declutter
*
31 Days to make Cleaning a Habit
*
31 Days to a Cleaning Routine
*
31 Days to Get it Together
These are just some that don't have to do with cleaning:
*
31 Days to Impress Your Kids
*
31 Days to be the person you want your child to be
*
31 Days to being a better mama
*
31 Days of Play
*
31 Days to a Happy Home
*
31 Days of Play for Toddlers
Anyone else in the cleaning mode? Are my posts giving you some ideas? Let me know.