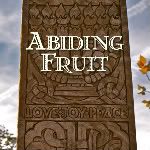 Right before I started my Good Morning Girls study in 1 John I found this amazing study at Do Not Depart called Abiding Fruit. I am yearning to be more filled with the Fruit of the Spirit. I decided to do this study as well as my Good Morning Girls. This study is a bit different. Every week we read the same passage for 5 days with new things to look for. The 5 days are: Initial read/context, Truths, Promises, Commands and Application.
We started studying Galatians 5:16-26 (The Fruit of the Spirit). There is a war between Spirit and Flesh. The secret to a fruit filled life: Walk by the Spirit!
The next week we looked at John 15:1-11 (Fruit comes from Abiding in Christ). If I abide in the Vine I will bear fruit, be pruned, I am clean, ask for desires/shall be done, glorify the Father, be a disciple, have love and joy. I learned that abiding is believing, depending, persevering, remaining and enduring.
This last week has been the hardest when we read Romans 7:15-24 (Why we struggle). This week showed me how utterly sinful I am. My will chooses evil above good because I am sinful. The war between evil and good is raging in my soul. I see that the ONLY way to come out of the pit is to be in God's Word, prayer and ask for deliverance as often as I need to so that my evil will be squelched. I know this will be an ongoing issue in my life. I pray that God will make me strong to stand against evil!
This week we move on to 1 Corinthians 13 (Love). I can't wait to study that!
Click on over to
Do Not Depart
for further thoughts on each of these passages and a
download
of all the Scripture that will be covered over these 13 weeks.