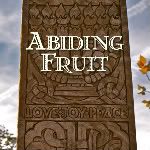 This week I read Psalm 16 for 5 days looking at truths, commands and promises that focus on joy. What I found most interesting was that safety and security in the Lord is what gives me joy.
Here are some of the truths and promises:
*God keeps me safe.
*He is my refuge.
*Good things come from the Lord.
*The Lord is my inheritance.
*The Lord is my blessing.
*He is my guide.
*He is always with me.
*He is right beside me.
*He shows me the way of life.
*He gives me joy.
*I can live with him forever.
Lasting joy is based on God's presence with us. I need to experience the presence of God daily in my life. This life is full of heartache and I find myself dwelling on the negative. I recently started writing my
1000 gifts
list. I'm using it to focus on positive things that God has given me in my life. In this psalm I learned that joy is safety and security in God. When it seems that parts of my world are crumbling, I know that I have the solid foundation of God to rest upon. With God I am safe, he is my refuge, he is with me, beside me and gives me joy in his presence. Today I want the JOY of the Lord to permeate every part of my being. I want no circumstance to drag me down, but be lifted up to God for in him, I have all I need.
I am hooked up
Do Not Depart
and
Good Morning Girls
.