This year I took on many challenges that helped me grow closer to God and to others. Here are a few Bible studies and other spiritual growth opportunities that I took part in this year.
*
Good Morning Girls
-
Ephesians
Proverbs 31 Woman
Colossians
Advent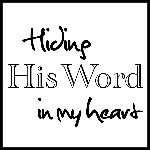 *Memorizing Scripture with
Do Not Depart
Romans 8
John 1:1-14
Proverbs 31: 10-31 (with my GMG Bible study)
*Read the Bible
I read the Bible in 90 Days with
Mom's Toolbox
.
*
Hello Mornings
Accountability group for mornings- God, Move, Plan
Register for the Winter Challenge on January 16th. The challenge is from Jan 28- Apr 26.
If you are someone who wants to better plan your mornings, have quiet time with God, exercise and make a good plan for the day, this is for you!
What I plan to do for 2013:
This year I will continue to do Bible study with
Good Morning Girls
. This winter we are studying Luke 1-8. I am excited to memorize more Scripture with
Do Not Depart
starting this January: Psalm 71. I will continue to connect with my Hello Mornings group and I am going to read through the New Testament from the calendar on my
Weekly Household Planner
.
I also participate in
Warrior Prayers
and
31 Days of Prayers for Girls
. I honestly want to spend more time with God in prayer and I will earnestly seek God during my SOAP studies as I want to follow God with my whole heart!
What Bible studies and Spiritual growth opportunities do you participate in?