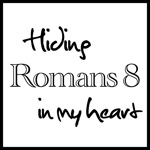 About 4 months ago I was feeling like I really wanted to dig deeper into God's Word. That's when
Do Not Depart
put out the challenge to memorize all of Romans 8. I was excited and a bit nervous. I hadn't memorized anything that long in awhile! But I felt that this was such a great chapter in the Bible to know that I took that challenge. I did pretty well for the first few months, but when the New Year started, I slacked off. So about 3 weeks ago, I realized that I was very far behind and I decided to catch up and memorize the last 20 verses. I don't recommend this. Anyway, when I say the whole thing through I am struck by the awesome story that God came to save everyone and he planned for us to desire him above all else! When I say it, the last verse just brings me to tears. I am so excited to be hiding God's Word in my heart and I will keep doing this for as long as I live!
Here's my vlog:
My next endeavor will be
John 1:1-14
. You can join too! We start April 8.