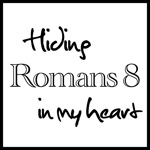 Since January started, things have been so topsy turvy. I thought coming back after the holidays would slow down. I went to visit my sister, Bible study started, we got snowed in for a week and now, my kids have been sick for a week. I took this video after the 13th day being home. Jessna has a very bad cough and has been keeping us up at night. So I have just been reviewing these verses over and over. I haven't really memorized any new ones.
I love how these verses tell me that Christ is who helps me defeat my fleshly desires and that I am a child of God. When I feel worn down, as I am now, I can hold fast to these verses.
Enjoy seeing Shrade and Jessna in the VLOG!