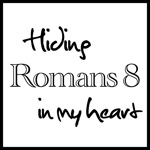 I have been memorizing Romans 8 with
Do Not Depart
since November. I am part of the
Facebook
group that encourages me daily and keeps me on track. I love these verses because they are so black and white. God is so good and I'm excited to memorize this chapter.
Here is a glimpse of verses 1-9 that I have memorized. (My first VLOG!)
I usually say them pretty fast when I have memorized them well. I have my verses on little cards that I say everytime I feed my daughter her bottle. I also am trying a new technique where I look at the first letter of each word to spark my memory. Not only am I learning more about God, I'm learning more about myself and I'm surprising myself that I can actually do this! I can't wait to have it ALL memorized. I'm up to verse 19 right now.