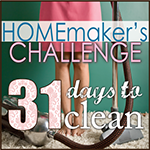 Are you ready to CLEAN?! As you have seen in my many posts this is an area where I want to be accomplished, but I never seem to get there. I guess with 2 little ones I shouldn't be too hard on myself, but I just can't seem to do the important things I want to do if my house is in utter disarray. I can't find anything and life just feels chaotic. I know that when my world is clean I can do a much better job of doing those activities that I really want to do well: meal planning, playing with my kids, budgeting, lesson planning, relaxing, etc. do you feel the same way?
Well, HOMEmaker's Challenge is doing a 31 Days to Clean Challenge starting September 1. Read this
POST
for further details and sign up. Get your
31 Days to Clean - Having a Martha House the Mary Way
today and get ready for the challenge!